Psalm 112 - Renton Community Church
Dec 31, 2022
Blog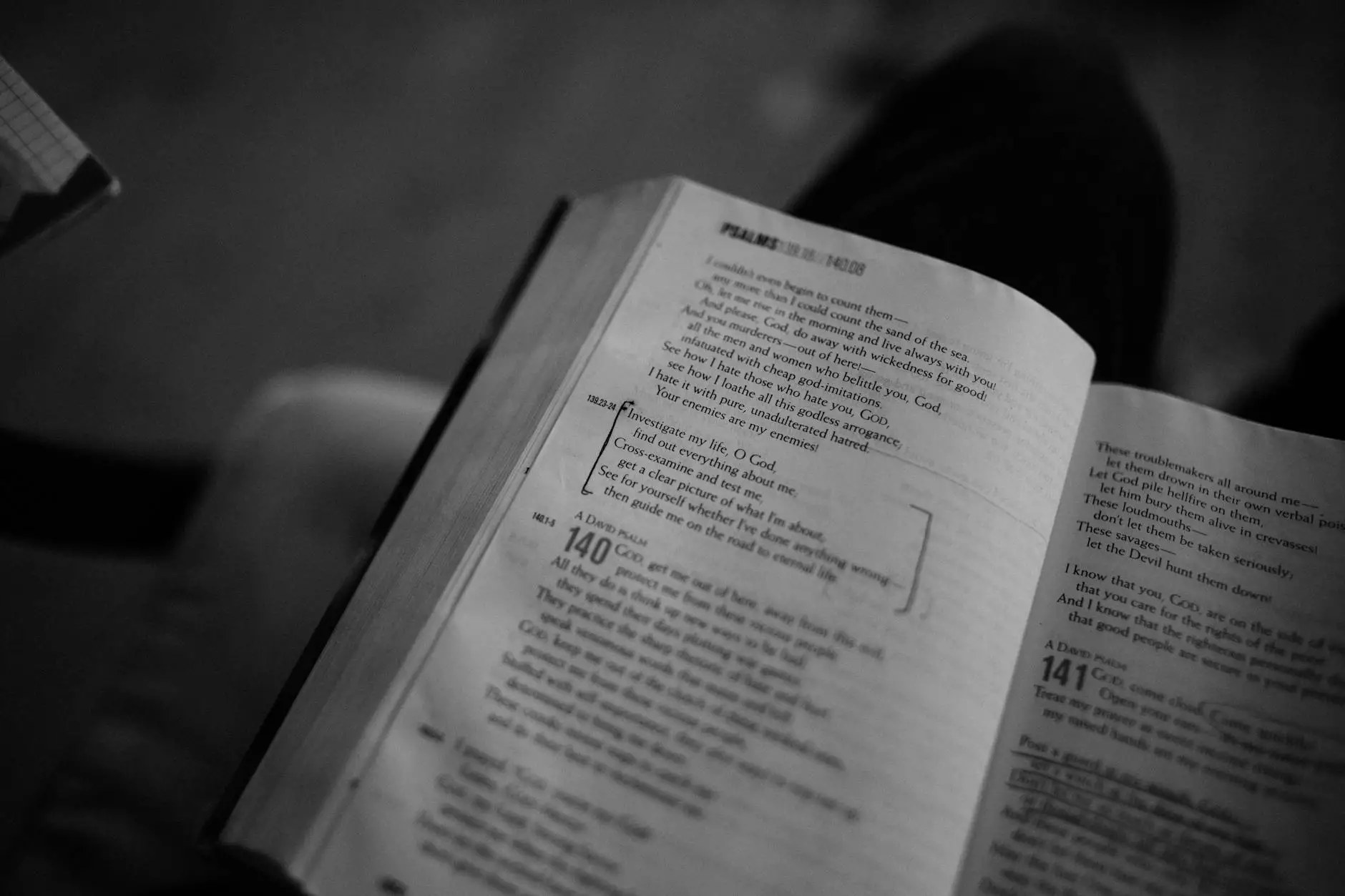 Introduction
Welcome to Renton Community Church's exploration of Psalm 112. In this detailed analysis, we delve into the profound meaning and relevance of this beautiful psalm.
About Psalm 112
Psalm 112 is a remarkable piece of ancient poetry found in the Book of Psalms. It offers wisdom, guidance, and inspiration for individuals seeking spiritual strength and tranquility. At Renton Community Church, we understand the significance of this psalm and its teachings in our daily lives and strive to empower our community members through its insights.
The Value of Faith in Our Community
As a community-centered organization, Renton Community Church firmly believes in fostering a sense of faith, love, and camaraderie among its members. We understand that faith plays a transformative role in shaping individuals and communities, providing a solid foundation to face the challenges of life with resilience and hope.
The Verses of Psalm 112: An In-Depth Exploration
In order to truly understand the impact of Psalm 112, we must analyze each verse and uncover the profound wisdom within:
Verse 1: Praise for the Righteous
The first verse of Psalm 112 emphasizes the importance of praising and celebrating individuals who fear the Lord and delight in His commandments. It serves as a powerful reminder of the virtues and rewards that come with righteousness and devotion.
Verse 2: The Blessings of Righteousness
Building upon the previous verse, this line highlights the blessings and prosperity that follow individuals who walk in righteousness. At Renton Community Church, we believe in cultivating a community where goodness and righteousness prevail, leading to abundant blessings in all aspects of life.
Verse 3: Stability in Troubled Times
Verse 3 reminds us that even in times of darkness and uncertainty, those who trust in the Lord will remain steadfast. At Renton Community Church, we strive to create a safe haven where individuals can find solace and support, knowing that their faith can anchor them amidst life's storms.
Verse 4: Generosity and Compassion
This verse extols the virtues of generosity and compassion, stating that the righteous graciously lend and give, always considering the needs of others. Renton Community Church encourages our members to embrace the teachings of Psalm 112 by fostering kindness and spreading compassion within our community and beyond.
Verse 5: Fearlessness in the Face of Adversity
Another powerful lesson found in Psalm 112 is the call for fearlessness. Verse 5 emphasizes that the righteous do not fear bad news but have unwavering trust in God. This unwavering faith enables them to face challenges with courage and conviction, ultimately triumphing over adversity.
Verse 6: The Memory of the Righteous
Verse 6 assures that the righteous will be remembered forever. Renton Community Church believes in cherishing the legacies of those who have walked faithfully before us while inspiring future generations to lead lives that leave a lasting positive impact.
Verse 7: Confidence in the Lord's Protection
Psalm 112 repeatedly emphasizes the trust and confidence the righteous place in the Lord. Verse 7 highlights this aspect, assuring that their hearts are secure, knowing that God is their refuge and fortress. At Renton Community Church, we strive to provide a spiritual haven where our community members can find strength and security in their faith.
Verse 8: The Triumph of the Righteous
The final verse of Psalm 112 concludes with the promise that the righteous will ultimately triumph over their enemies. This victory stems from their unyielding dedication to the Lord's commandments and their unshakable faith. Renton Community Church encourages our community members to persevere in their journey of righteousness, knowing that their triumph is assured.
Conclusion
Psalm 112 holds immense significance at Renton Community Church, serving as a guiding light on our spiritual path. Through in-depth analysis and profound insights, we strive to empower our community members with the wisdom and strength found within this remarkable psalm. Join our community today and embark on a transformative journey toward a life filled with righteousness, compassion, and unwavering faith.