Confession - St. Sophia Greek Orthodox Church Bellingham
Sep 18, 2018
Beliefs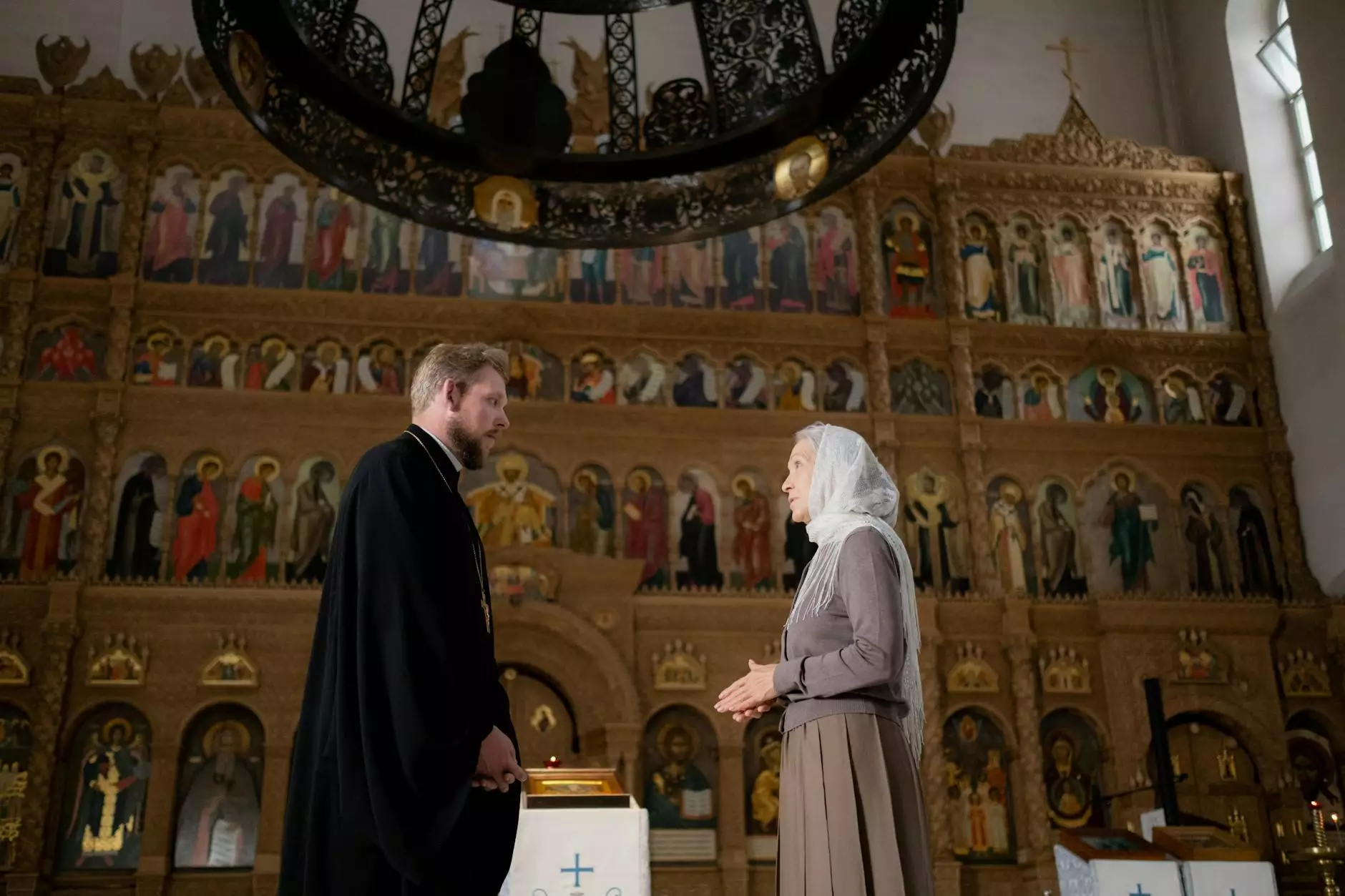 Welcome to the Confession page of Renton Community Church, St. Sophia Greek Orthodox Church Bellingham. We are delighted to offer you the opportunity to experience the transformative power of confession. This sacred sacrament plays a significant role in our faith and beliefs, providing a means of spiritual growth, healing, and forgiveness.
Understanding Confession
Confession is a deeply personal and intimate experience through which believers open their hearts and souls to God. It is a sacrament that allows individuals to seek forgiveness for their sins, reconcile with God, and receive His abundant grace. At Renton Community Church, our dedicated clergy are here to assist you on your journey towards spiritual renewal and transformation.
The Importance of Confession
Confession holds a special place within the teachings of the Orthodox Christian faith. It serves as a crucial means of awakening our conscience, purifying our souls, and fostering a deeper connection with God. Through confession, we acknowledge our imperfections and seek God's mercy and guidance to grow and become better versions of ourselves.
Confession is not simply a way to relieve guilt; it is a gateway to spiritual renewal, restoration, and reconciliation. By openly and honestly expressing our shortcomings and sins to God, we take responsibility for our actions and invite His transformative love and forgiveness into our lives. It is a sacred encounter that allows us to experience divine grace firsthand and nurture a closer relationship with our Creator.
The Process of Confession
Confession at Renton Community Church follows a well-established and reverent process that ensures a safe and supportive environment for every individual seeking this sacrament. Here's what you can expect:
Prepare your heart: Before approaching confession, it's essential to spend time reflecting on your actions, thoughts, and behaviors. Consider the areas of your life in which you may have fallen short and seek genuine repentance.
Schedule an appointment: Reach out to our clergy and schedule a confession appointment. Our compassionate and understanding priests are available to guide you through this sacred process.
Confidentiality assured: Rest assured that your confession is held in the strictest confidence. Our clergy are bound to maintain the sanctity of your confession and will offer their guidance and support with utmost discretion.
Confession and guidance: During the confession, you will have the opportunity to pour your heart out to the priest, who will listen attentively and offer spiritual guidance. The priest may provide counsel, share relevant scriptures, and offer prayers specific to your needs.
Act of contrition: After expressing your sins, the priest will guide you through an act of contrition, wherein you express your sincere repentance and commitment to amend your ways.
Absolution and prayer: Following your confession and act of contrition, the priest will grant absolution, offering prayers for your forgiveness and spiritual healing.
Continued support: Our clergy are dedicated to supporting you beyond confession. They can offer guidance on spiritual practices, recommend relevant resources, and provide ongoing support on your path to holiness.
Benefits of Confession
Confession offers a multitude of benefits for individuals seeking to deepen their spiritual journey. Here are a few ways in which confession can positively impact your life:
1. Forgiveness and Healing:
Confession allows us to seek God's forgiveness and experience spiritual healing and restoration. Through this sacrament, we can unburden ourselves from the weight of sin and find solace in God's abundant mercy.
2. Personal Growth and Transformation:
By continually engaging in confession, we cultivate a greater awareness of our actions and gain the strength to overcome our weaknesses. Confession acts as a catalyst for personal growth, promoting virtues, and transforming our lives.
3. Renewed Relationship with God:
Confession helps repair and deepen our relationship with God. As we humble ourselves and seek His forgiveness, we open the door to a more intimate connection with our Creator, experiencing His love and grace in profound ways.
4. Spiritual Guidance:
Through confession, we receive spiritual guidance from our clergy. They offer insights, prayers, and wisdom that help us navigate life's challenges, enabling us to make righteous choices and align our lives with God's will.
5. Community Support:
Confession fosters a sense of community support, as we witness the shared experience of seeking forgiveness and striving for spiritual growth. We find comfort in the knowledge that we are not alone on our journey and are part of a loving and supportive community.
Embrace the Power of Confession
Now is the time to embrace the life-changing power of confession. At Renton Community Church, St. Sophia Greek Orthodox Church Bellingham, we invite you to experience the joy and liberation that come from seeking reconciliation with God through confession. Our clergy are eager to guide you on this sacred journey, providing a compassionate and understanding space for you to unburden your soul and receive God's boundless mercy.
Take the first step towards spiritual renewal and transformation by scheduling a confession appointment today. Allow the power of confession to reshape your heart, heal your soul, and bring you closer to God.
Remember, at Renton Community Church, we are dedicated to helping you grow in your faith and beliefs. Join us as we seek divine grace, embrace forgiveness, and walk the path of spiritual enlightenment.